RECORDED SONGS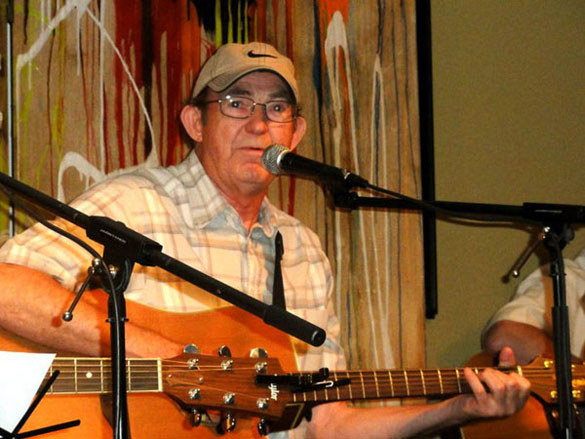 Jimmy Payne in the Commodore Lounge, Nashville. Photograph copyright © Ginny Foley
Over the years, Jimmy has written some exceptional songs - many been recorded by a host of singers, and groups, covering various styles of music - from country and pop to sacred. On this page we have compiled an up-to-date list of all the singers, artists and musicians who have recorded songs written by him.
Clicking on the links in bold coloured text will take you to the lyrics of the song in question.
"Woman Woman"
Gary Puckett & The Union Gap, Richard Barnes, Glen Campbell Orchestra, Ace Cannon, Lofton Cline, Roy Drusky, John Farnham, Frankie Ford, John Gary, Jim Glaser, Tompall & The Glaser Brothers, Robert Goulet, Lloyd Green, Ted Heath Orchestra, Rick Hertless, Engelbert Humperdinck, Charlie Jordan, The Lettermen, Sherwin Linton, Mary K. Miller, Jimmy Payne, The Roadrunners, David Roberts, John Wesley Ryles, Santo & Johnny, Cliff Seaman, Levi Stubbs/Tops, Ed Sullivan Orchestra, Cathy Taylor.

"A Fire Tears Can't Put Out"
Dean Chance

"And I'm Still Missing You"
Bill Anderson, Jimmy Dean, Dottie West, Dottie West & Jimmy Dean.

"A Rose Is A Rose"
Jimmy Payne
"Baby Don't Cry"
Jimmy Payne
"Baby, Baby I'll Be Your Woman 'Til I Die"
Vivien Reed

"Baby I Need You"
Gabe Jardin, Jimmy Payne

"Broadminded"
Pat McKinny, Leona Williams, Tammy Wynette

"Best That Love Can Give"
Jimmy Payne
"Cheerio To Jolly Olde"
Jimmy Payne
"Chasin' My Tail"
Jim Glaser
"Cheatin' Turns Her On"
Jimmy Payne, Jo-El Sonnier, David Wills

"Cheatum"
Jimmy Payne
"Coal Camp"
Grandpa Jones
"Don't Say Love"
Craw Bell and Steel Rail, Cates Sisters, Daniel O'Donnell, Jim Glaser, Frank Jennings, Jimmy Payne, Connie Smith, B J Wright

"Every Dog Has Its Day"
Jimmy Payne
"Fritz And Frills"
Vik Chandler
"Give Love A Place To Begin"
Jimmy Payne
"Georgia Sunshine"
Jim Glaser
"Golden Turnpike In The Sky" **
Hank Thompson
"How Do You Tell Someone You Love" *
Jimmy Payne, Rod Rishard

"I'd Know A Lie"
Gary McCullah, Jimmy Payne

"It's Still A Long Way"
Jim Glaser
"I'll Change The Color Of The Blues"
Jimmy Payne

"If I Only Had A Chance"
Jimmy Payne
"If You Ain't Got A Song"
Ken Cameron
"I See His Love All Over You"
Wilma Burgess, Jim Glaser, Tompall & The Glaser Brothers

"I Did My Best To Fall In Love Last Night"
Marlo Tackett, Tammy Wynette

"I've Done At Least One Thing"
Hank Snow
"Jalapeno Lips"
Henry Lewis
"Late Breaking News"
Dean Chance
"Lovin' Over Time"
Jimmy Payne
"Let Me Be Forever"
Dean Chance
"Leaning On Each Other"
Billy Parker, Marlo Tackett, B J Wright

"Ladder To The Sky"
Jimmy Payne, Buddy Starcher

"Let Me Give You My Love"
Jimmy Payne
"Love Daddy"
Ken Cameron
"Love Stoned"
Jim Glaser
"Man Called Noah"
Jimmy Payne
"Mansion In Spain"
Doug Kershaw, Jimmy Payne

"My Most Requested Song"
Rich Landers, Jimmy Payne

"My Eyes Can Only See As Far As You"
Paul Martin, Jimmy Payne, Charley Pride, Jeanne Pruett

"Midnight Angel Of Mercy"
Rod Rishard
"Permanent Kind Of Lovin'"
Jim Glaser, Jimmy Payne

"Please Take Me Back"
Jim Glaser, Jimmy Payne

"Rags For Amos"
Jimmy Payne
"Remember Jesus"
Jimmy Payne
"Sunday"
Jim Glaser, Ray Price

"Sleeping Beauty"
Jim Glaser
"She's Free But She's Not Easy"
Tony Best, Johnny Duncan, Frank Ifield, Jim Glaser, Bob Newman, Jimmy Payne

"Take Me By Surprise"
Charleston Express
"Teach Me A Little Each Day"
Jimmy Payne
"The Weight Of My Chains"
Tompall & The Glaser Brothers, Paddy O'Brien, Jimmy Payne, Cal Smith

"The Greatest Country Singer Of Them All"
Jimmy Payne
"Tonight's The Night Miss Sally Testifies"
Jimmy Payne
"Velvet Wallpaper"
Tompall and The Glaser Brothers, Jimmy Payne

"Virginia And The Kids"
Gary Crosby, Jimmy Payne

"Who'll Protect Me From The Morning Sun"
John Greer, Jimmy Payne

"When Mama Prayed"
Jimmy Payne
"What Time Is It In Your World"
Jimmy Payne, John Penny, Rod Rishard, Charlie Scott

"Wrinkles In My Rainbows"
Kelvin Henderson, Gary McCullah, Jimmy Payne

"You're The Closest I've Come To Gettin' Over Her"
Rod Rishard
"You Even Look Good To Me In Blue"
Jimmy Payne
This website is not responsible for the content of external internet sites
Copyright © Jimmy Payne Music / All Rights Reserved