SONGS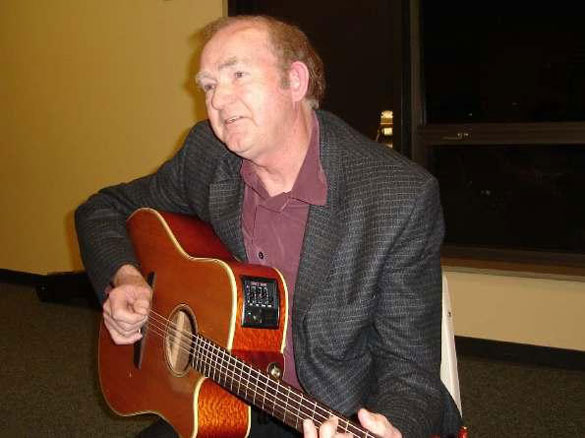 Jimmy in St. Louis, Missouri, March 2006.
You will find on this page a complete list of all the Jimmy Payne compositions. They were either written solely by Jimmy, or co-written, with other people. Of course, not all of them have been recorded. If you believe we have missed any of your favourites, then please do let us know and we will rectify it as soon as possible.
Alice
And I'm Still Missing You
Baby, Baby, I'll Be Your Woman Tonight
Baby Don't Cry
Baby I Need You
Best That Love Can Give
Broadminded
Candy
Chasin' My Tail
Cheatin' Turns Her On
Cheatin' Lady
Cheatum
Darkness Of Our Times
Dixie Dance (a.k.a. Dixie Dancing)
Don't Say Love
Even If It Rains
Feeling The Weight Of My Chains
Fire Tears Can't Put Out
Fritz And Frills
Georgia Sunshine
Give Love A Place To Begin
Goodbye-ee
How Do You Tell Someone
I'd Know A Lie
I Did My Best To Fall In Love Last Night
I'll Change The Color
I Need You To Exist
I See His Love All Over You
I've Done At Least One Thing
If I Only Had A Chance
If We Ain't In Love
If You Ain't Got A Song
Innocence Of Love
I'm Feeling The Weight Of My Chains
It's Still A Long Way
Jalapeno Lips
Ladder To The Sky
Leaning On Each Other
Learning How To Leave
Let Me Give You My Love Woman
Letter From My Baby
Love Daddy
Love Stoned
Lucky Little Teardrops
Man Called Noah
Mansion In Spain
Me And The Bottle And You
Midnight Angel Of Mercy
Midnight Exchange
Mr. Ladykiller
My Eyes Can Only See As Far As You
My Most Requested Song
Not Because Of Me
Now It's Starting To Rain
On The Wings Of A Song
Party's Over Mamma
Permanent Kind Of Loving
Please Take Me Back
Rags For Amos
Remember Jesus
Rose Is A Rose
September Girl
Serves Me Right For Hurting You
She's Free But She's Not Easy
Sleeping Beauty
Sunday
Sylvia
Symbol Of Our Love
Take Me By Surprise
The Simple Life
Temporary Permanent Kind Of Man
The Eyes Of Jesus
The Greatest Country Singer Of Them All
This May Be The Cloud
This Too Will Pass Away
Tonight's The Night Miss Sally Testifies
Tony, Tony
Velvet Wallpaper
Victim Of The Times
Virginia And The Kids
Walk With Me The Rest Of The Way
Weight Of My Chains
What Time Is It In Your World
When Mama Prayed
Who Are You Now
Who'll Protect Me From The Morning Sun
Woman, Woman
Worst Of Me
You Even Look Good In Blue
You're The Closest I've Come To It
You Show Me Your Love
You Sure Know How To Satisfy Your Man
Tompall & the Glaser Brothers, Jim Glaser, Bill Anderson, Tammy Wynette, Dottie West, Ray Price, Grandpa Jones, Jeanne Pruett, Charley Pride, Connie Smith, Jo-El Sonnier, Daniel O'Donnell and Hank Snow are just some of the major names in country music who have recorded songs written by Jimmy Payne.
The song "Woman, Woman," as you can imagine, has been recorded in other languages such as "Mujer, Mujer" in Spanish. For obvious reasons we have not listed all the foreign language songs - it would take up too much space! However, if you would like us to, you can always email us with a list of your foreign recorded titles written by Jimmy.
"Woman, Woman" Agnaldo Rayol 1968 Brazil Copacabana CLP 11542

"Woman, Woman" Silvennoinen, Timo Antero 1977 Finland. Album title "Malaya."
This website is not responsible for the content of external internet sites.
Copyright © Jimmy Payne Music All Rights Reserved