PHOTOGRAPHS
If you have enjoyed seeing this selection of photographs on this impressive slide show, be sure to visit our Early Years page, with some wonderful photographs in black and white, from the 1960's.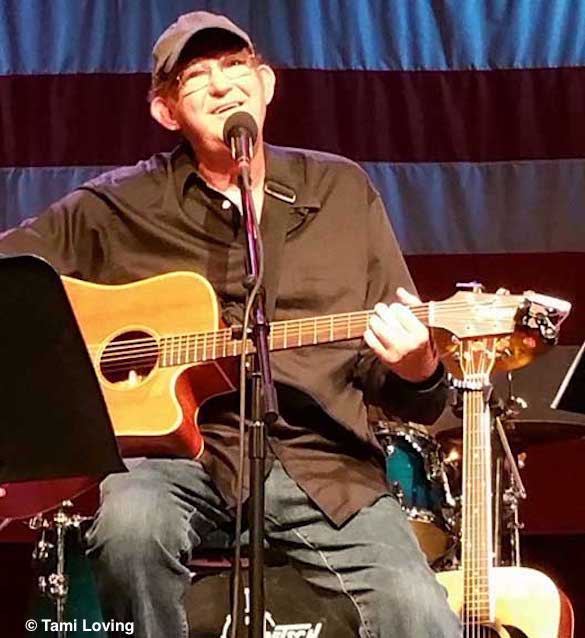 Jimmy entertaining at the Midnight Jamboree in the Texas Troubadour Theatre in Nashville, Tennessee. Jim Glaser was the host on the night which took place during late May, 2016. Photograph copyright © Tami Loving and used with thanks.
Jimmy in the United Kingdom - Photographs © Maurice Bowers.
On the left Jimmy relaxing at home and, on the right, in Nashville, Tennessee with British drummer Clive Mears.
Two images of Jimmy on stage in Norway - Photographs © Simon Aldra.
Jimmy on stage in the United Kingdom. Photographs © Maurice Bowers.
Since this website began in February 2002, we have been very fortunate to have received several photographs of Jimmy taken during his early years and on the many tours he made to the UK during the mid to late 1970's. Too many, in fact, to be shown on one page – so be sure to take a look at the wonderful collection of photographs on the Early Years page.
Polite Notice
Photographs on this site are © copyright to their respective owners and are not to be downloaded, or printed, for private use by individuals, organisations or social network sites. By viewing a digital image from this collection, you are agreeing to comply with copyright licensing regulations.
This website is not responsible for the content of external internet sites
Copyright © Jimmy Payne Music / All Rights Reserved