PIECES OF LIFE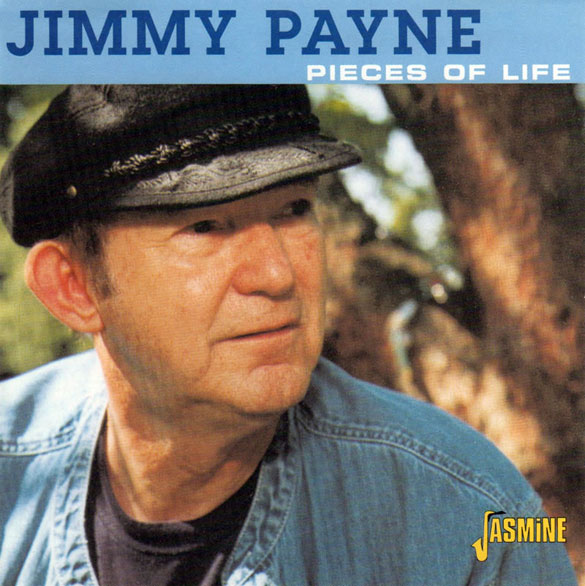 "Pieces Of Life"
Photograph by Scott Hammaker
"Don't Say Love" (Jim Glaser/Jimmy Payne) f
"Kid From The Country" (Bryan D.Way/Paul Grady) a
"Cheatin' Turns Her On" (Bill Holmes/Jimmy Payne) f
"What Time Is It In Your World" (Jimmy Payne/J.T.Wooten) b
"My Eyes Can Only See As Far As You" (Naomi Martin/Jimmy Payne) b
"Money In The Chair" (Bryan Way/ Alan Huiser/William Wallace) a
"Wait A Little Longer" (Chester Smith/Hazel Houser) g
"Turnin' My Love On" (Bob Milsap) c
"God Bless The Farmer" (Bryan Way/John Gulley) b
"Teach Me A Little Each Day" (Jimmy Payne) b
"Baby I Need You" (Jimmy Payne) d
"Wrinkles In My Rainbows" (Jimmy Payne) b
"Mansion In Spain" (Jimmy Payne/Dale Vest) b
"That Old Hat" (Bryan D.Way/John K.Gulley) a
"Why Me Lord?" (Kris Kristofferson) g
"Memphis Morning News" (Dick Feller) e
"The Weight Of My Chains" (Jimmy Payne) f
"It's Not For Me To Understand" (Willie Nelson) g
"I'd Know A Lie" (Jimmy Payne/Naomi Martin) f 
"Amazing Grace" (Trad. Arr. Bill Holmes/Jimmy Payne) g
Produced by Bryan Way - a
Produced by Jimmy Payne & Doyle Grisham - b
Produced by Bob Milsap - c
Produced by Jimmy Payne & Joe Gibson - d
Produced by Chuck Glaser - e
Produced by Bill Holmes – f
Produced by Jimmy Payne & Bill Holmes - g
Executive Producer: Paul Davis
Payne is undoubtedly one of the greatest story-telling songwriters in country music history as this keepsake collection conclusively reveals. There have been over 200 recordings of Jimmy Payne songs. Jimmy was born in Leachville, Arkansas, into a large family of two brothers and six sisters. Leaving Arkansas for Gideon, Missouri, to become cotton sharecroppers, Jimmy worked on his father's farm until the age of nineteen. Then he moved to St. Louis to become a paint sprayer. His interest in Country music inspired him to learn guitar at the age of sixteen. Whilst still in his teens, he and his niece, Betty, had their own radio show on station KTCB in Malden, Missouri. Encouraged by the renowned songwriter Jack Campbell, Jimmy remembers how Jack would often stop by and help Jimmy tune his guitar. Jack had written some quality songs for many people including Jimmy "You Are My Sunshine" Davis and the Singing Rambos.
It seemed like Jimmy's musical ambitions were going to take a back seat when he was 'called up' by Uncle Sam for Army service. However, the opposite happened as it brought him into contact with Chuck Glaser of the Glaser Brothers. This meeting led Jimmy to becoming lead guitarist in Chuck's band in Fort Lewis, Washington. Chuck told Jimmy to contact him when he got out of the Army and join him in Nashville.
After leaving the Army Jimmy returned to St. Louis, playing music there and visiting Nashville occasionally until Chuck secured his signature for a five-year contract with the Epic label. Before this, he had already made his recording debut in 1962 with "Ladder To The Sky" on Kark Records, with the Glaser Brothers as backing singers. Several label moves followed where he recorded "Rusty Old Halo," "Every Little Pretty Girl" and "Don't Try To Tell Me," which he co-wrote with Jim Glaser. However, Jimmy's recording success story really took off when he joined Epic Records and he entered the country charts with "What Does It Take (To Keep A Woman Like You Satisfied)" in 1966. This was followed by "Woman, Woman" in 1967 which he co-wrote with Jim Glaser. Gary Puckett and the Union Gap took it to the top of the charts, as the song became a big hit worldwide.
In 1969 Jimmy had his first hit as a singer with "L.A. Angels." Other hits included "Ramblin' Man," "Where Has All The Love Gone" and "Turnin' My Love On." He graced the British pop charts with "Sweet Fantasy" and his popularity was sufficient to provide British album releases on the Pye, Word and RCA labels following well-received tours in the UK, at the Peterborough Country Music Festival and the Wembley Country Music Festival. In the United States he played the Grand Ole Opry, the Golden Nugget in Las Vegas and the Wheeling Jamboree in West Virginia. He also enjoyed international success with visits to Japan, the Philippines, Norway and the Netherlands.
He married Virginia Holmes in 1969, the sister of Bill Holmes, bass player with the Nashville Studio Band. The Payne's made their home in Nashville, with their daughter Amanda, where he has his own recording studio and publishing company specializing in vintage 'pop' hits and new copyrights.
When asked about his ambitions in life he said, "I guess my goal is to be successful enough as an entertainer and a songwriter to provide a good living for my family and a good income when I am older. And with God's help I intend to write more hit songs and do more touring in Europe." When further pressed and asked whether he would wish to be a superstar, Jimmy stretched out his long legs, pushed his trademark flat hat further down on his head, flashed his wide grin and with that Southern drawl in his voice, answered as though somebody has asked him if he'd like a cup of coffee…. "Oh, I'd take it!" (Paul Davis.)
Copyright © Jimmy Payne Music All Rights Reserved