THE FOSTER AND RICE SONGBOOK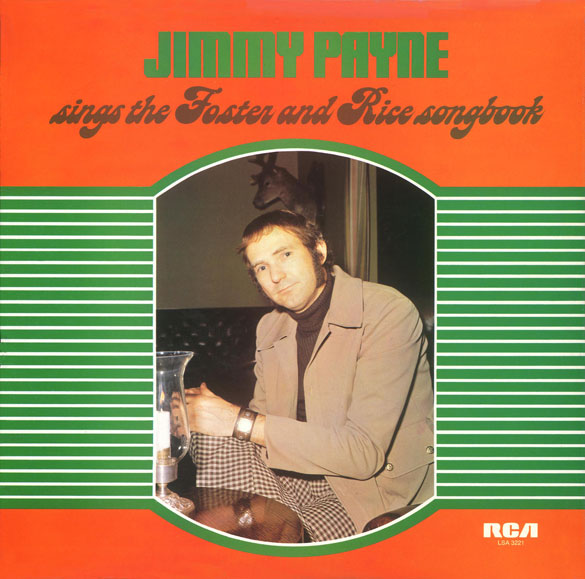 "Jimmy Payne Sings The Foster And Rice Songbook"
RCA LSA 3221 (1975)
Side One:
"Love (Don't Let Me Down)"
"Ain't She Something Else"
"Song And Dance Man"
"Heaven Everyday"
"Rain Never Falls In Denver"
"All In The Name Of Love"
Side Two:
"Someone To Give My Love To"
"When You Say Love"
"Travellin' Minstrel Man"
"The Easy Part's Over"
"Somebody Loves Me"
"Darling You Can Always Come Back Home"

Jerry Foster and Bill Rice have, in recent years become one of the most successful song writing teams in Country music. It's been a hard slog since they first got together while working as DJ's on WTCB Radio in Malden, Missouri. They were there for about seven years, but it wasn't until they moved to Nashville at the suggestion of Tom T.Hall that things started looking up. Their association with Jack Clement and Bill Hall, as staff writers for Jack and Bill Music, was the point from which their careers blossomed and soon they were writing hit songs for artists such as Charley Pride, Jeannie C.Riley, Johnny Paycheck, Mel Tillis, Narvel Felts, Jody Miller and Ferlin Husky – and they've kept on writing hit after hit!
Jimmy Payne is also a very talented songwriter, as well as a fine singer, and he's been close friends with Jerry and Bill, ever since, as a young aspiring writer, he pitched his songs to them at WTCB Radio.
Jimmy grew up in Gideon, Missouri and sang in a gospel trio called The All Star Gospel Singers. While serving two years in the Army for 'Uncle Sam,' Jimmy met Chuck Glaser, who persuaded him to move to Nashville when his two years with the Army were up and sign management and writing contracts with the Glaser Brothers – best known for the multi-million selling 'Woman, Woman.' Jimmy has continued to write outstanding songs and steadily developed his singing career.

Last October, Jimmy came to Britain for a five-week tour and, as Jimmy's European Manager, I was discussing with Jimmy and impresario Mervyn Conn Jimmy's forthcoming appearance at the Seventh International Festival of Country Music at the Empire Pool, Wembley and the conversation got around to Jerry Foster and Bill Rice – Mervyn handles Jack and Bill Music in the United Kingdom – with Jimmy saying how much he admired their writing. Mervyn came up with the inspired suggestion that, as nobody has recorded a tribute album to Foster and Rice, would he like to do one, and the upshot was 'Jimmy Payne Sings The Foster And Rice Songbook.'
Backed by some of Britain's top session musicians, Jimmy has recorded this tribute to Jerry and Bill, covering some of his particular favourite Foster and Rice compositions. It was very much a 'Head Session,' that is, Jimmy and the musicians 'kicked the songs around' for a while, to come up with some original versions of these great songs. Listen, for example, to Jimmy's handling of the Johnny Paycheck song 'Someone To Give My Love To' and 'Song and Dance Man.'
For me, personally, Jimmy's performance of 'Ain't She Somethin' Else' is a memorable high spot on the album but I'm sure you are going to have your own favourites, because Jimmy Payne, with the able and sympathetic assistance of producer Roy Morris, has recorded one of the best Modern Country albums ever cut in Britain.
Management Larry Adams, Blue Ridge (Enterprises) Ltd., 98 Courtfield Ave., Chatham, Kent.
This website is not responsible for the content of external internet sites
Copyright © Jimmy Payne Music